Coach: Neil Balme
Captain: Garry Lyon
Finishing Position: 9th
Best and Fairest: Jim Stynes
Leading Goalkicker: Garry Lyon (77)
Best First Year Player: Adem Yze
Sponsor: Toohey's Blue
Members: 9544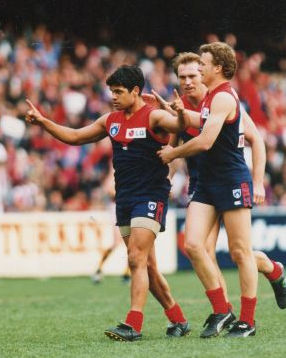 After making the Preliminary Final with slashing attacking football the season before, Melbourne opened as a 7-1 shot for the flag with bookies, and with a new logo which they would continue to use until 2008.
After a breakout year in 1994 David Schwarz injured his knee in a pre-season intra-club match. He made a comeback in record time, returning to the side by Round 9, but the injury struck again the next week and his year was over.
The last round became a knockout with the winner of the game against Brisbane to make the finals. The Demons lost, and once again a year that had promised so much had failed to deliver.
Despite missing the final eight the club had their best financial results in a decade, making a profit of $321,650. Despite this the club flagged losses of up to $50,000 a game from future home matches they were being forced to play at Princes Park and threatened to take legal action against the league if they weren't compensated for their losses. The club was banned from displaying signage by their sponsor Tooheys at the ground due to an exclusivity agreement between the ground and CUB.
Practice Matches
Ansett Cup
| | | | |
| --- | --- | --- | --- |
| Round | Opposition | Result | Score |
| 1 | West Coast | LOSS | 77-111 |
Premiership Season
| | | | |
| --- | --- | --- | --- |
| Round | Opposition | Result | Score |
| 1 | Geelong | LOSS | 73-87 |
| 2 | North Melbourne | LOSS | 87-106 |
| 3 | Essendon | LOSS | 82-98 |
| 4 | Footscray | LOSS | 80-103 |
| 5 | West Coast | LOSS | 74-90 |
| 6 | Adelaide | LOSS | 69-77 |
| 7 | Brisbane Bears | WIN | 82-75 |
| 8 | Hawthorn | WIN | 112-50 |
| 9 | Collingwood | WIN | 85-58 |
| 10 | Sydney | WIN | 102-77 |
| 11 | Carlton | LOSS | 80-112 |
| 12 | St. Kilda | WIN | 90-73 |
| 13 | Richmond | WIN | 95-84 |
| 14 | Fremantle | WIN | 102-50 |
| 15 | Fitzroy | WIN | 131-50 |
| 16 | Geelong | LOSS | 82-111 |
| 17 | North Melbourne | WIN | 102-80 |
| 18 | Essendon | LOSS | 73-106 |
| 19 | Footscray | LOSS | 58-78 |
| 20 | West Coast | LOSS | 75-104 |
| 21 | Adelaide | LOSS | 115-146 |
| 22 | Brisbane Bears | LOSS | 89-110 |
Ladder
| | | | | | |
| --- | --- | --- | --- | --- | --- |
| | W | D | L | % | P |
| Carlton | 20 | 0 | 2 | 137.8 | 80 |
| Geelong | 16 | 0 | 6 | 131.9 | 64 |
| Richmond | 15 | 1 | 6 | 107.9 | 62 |
| Essendon | 14 | 2 | 6 | 127.6 | 60 |
| West Coast | 14 | 0 | 8 | 122.9 | 56 |
| North Melbourne | 14 | 0 | 8 | 114.8 | 56 |
| Footscray | 11 | 1 | 10 | 91.5 | 46 |
| Brisbane | 10 | 0 | 12 | 95.3 | 40 |
| Melbourne | 9 | 0 | 13 | 100.7 | 36 |
| Collingwood | 8 | 2 | 12 | 96.8 | 36 |
| Adelaide | 9 | 0 | 13 | 80.1 | 36 |
| Sydney | 8 | 0 | 14 | 100.7 | 32 |
| Fremantle | 8 | 0 | 14 | 92.8 | 32 |
| St. Kilda | 8 | 0 | 14 | 80.3 | 32 |
| Hawthorn | 7 | 0 | 15 | 94.0 | 28 |
| Fitzroy | 2 | 0 | 20 | 58.2 | 8 |
Playing List
Best and Fairest
Other Awards
Best Clubman - David Neitz
Most Consistent Player - David Neitz
Most Improved Player - Paul Prymke
Inspirational Performance - Garry Lyon
Best Team Player - Todd Viney
MCC Award - Peter Rohde and Jim Stynes
Reserves
1995 Reserves Season
Best and Fairest - Peter Rohde
Leading Goalkicker - Daniel Clarke (33)
| | | | | | |
| --- | --- | --- | --- | --- | --- |
| | W | D | L | % | P |
| North Melbourne | 19 | 0 | 3 | 177.9 | 76 |
| Footscray | 19 | 0 | 3 | 146.1 | 76 |
| Sydney | 15 | 0 | 7 | 129.8 | 60 |
| Essendon | 13 | 0 | 9 | 114.7 | 52 |
| St Kilda | 12 | 0 | 10 | 101.2 | 48 |
| Collingwood | 12 | 0 | 10 | 98.9 | 48 |
| Geelong | 9 | 0 | 13 | 89.3 | 36 |
| Carlton | 8 | 0 | 14 | 84.7 | 32 |
| Hawthorn | 8 | 0 | 14 | 78.8 | 32 |
| Melbourne | 7 | 0 | 15 | 72.7 | 28 |
| Richmond | 6 | 0 | 16 | 91.4 | 24 |
| Fitzroy | 4 | 0 | 18 | 63.2 | 16 |

Media
Canberra Times - 27/07/1995