Coach: Bob Skilton
Captain: Stan Alves
Finishing Position: 6th
Best and Fairest: Greg Wells
Leading Goalkicker: Ray Biffin (47)
Best First Year Player: Peter O'Keefe
Strong practice match wins over Richmond and Hawthorn, and an opening round success against North Melbourne led some pundits to declare that Melbourne were a danger of making their first finals series since 1964. Writing in The Age Richmond's Royce Hart declared the Demons "the emerging force in the VFL".
The season began with a second field umpire for the first time but it was business as usual Melbourne who were tenth after Round 18 before a three game winning streak put the Demons on the brink of their first finals appearance in a decade going into the last day of the season. With shrewd off-season buys like Craig McKellar, Allan Davis and Laurie Fowler coming into form Bob Skilton even declared that they could give the premiership a shake if they qualified.
As long as they beat Collingwood, and minor premiers Carlton defeated 5th place Footscray at Princes Park they would be finalists for the first time since 1964. The Bulldogs were lucky to still have their destiny in their own hands, having beaten lowly Fitzroy with a kick after the siren the week before. Had centreman Alan Stoneham missed a Demon win at Victoria Park would have been enough to catapault Melbourne into the four no matter what happened at Princes Park.
The Demons did their job, beating wooden spooners Collingwood by 15 points at Victoria Park but Footscray, however, managed to hold off a fast finishing Carlton and earn a draw to take them into the finals in front of a side who would have to wait another 11 years to see a top 5 appearance.
Despite media reports linking Tom Hafey with the Demons at the end of the season the former Richmond premiership coach did not cross Yarra Park to the MCG and Skilton was reappointed for another year. It had been reported that Skilton's initial asking price was too high for Melbourne's committee. He eventually re-signed and Hafey joined Collingwood.
Henry Bolte and Lord Mayor Ron Walker were club patrons.
Practice Matches
Premiership Season
| | | |
| --- | --- | --- |
| Round | Opposition | Result |
| 1 | North Melbourne | WIN |
| 2 | Footscray | LOSS |
| 3 | Essendon | WIN |
| 4 | Carlton | LOSS |
| 5 | Fitzroy | WIN |
| 6 | South Melbourne | WIN |
| 7 | Hawthorn | LOSS |
| 8 | Richmond | LOSS |
| 9 | St. Kilda | WIN |
| 10 | Geelong | LOSS |
| 11 | Collingwood | LOSS |
| 12 | North Melbourne | LOSS |
| 13 | Footscray | WIN |
| 14 | Carlton | LOSS |
| 15 | Essendon | LOSS |
| 16 | Fitzroy | WIN |
| 17 | South Melbourne | LOSS |
| 18 | Hawthorn | LOSS |
| 19 | Richmond | WIN |
| 20 | St. Kilda | WIN |
| 21 | Geelong | WIN |
| 22 | Collingwood | WIN |
Ladder
| | | | | | |
| --- | --- | --- | --- | --- | --- |
| | W | D | L | % | P |
| Carlton | 16 | 1 | 5 | 132.8 | 66 |
| Hawthorn | 16 | 0 | 6 | 114.2 | 64 |
| North Melbourne | 15 | 0 | 7 | 116.8 | 60 |
| Geelong | 12 | 0 | 10 | 103.9 | 48 |
| Footscray | 11 | 1 | 10 | 96.8 | 46 |
| Melbourne | 11 | 0 | 11 | 99.4 | 44 |
| Richmond | 10 | 0 | 12 | 98.6 | 40 |
| South Melbourne | 9 | 0 | 13 | 94.0 | 36 |
| St. Kilda | 9 | 0 | 13 | 90.1 | 36 |
| Essendon | 9 | 0 | 13 | 88.2 | 36 |
| Fitzroy | 7 | 0 | 15 | 92.8 | 28 |
| Collingwood | 6 | 0 | 16 | 86.4 | 24 |
Playing List
Best and Fairest
Other Awards
Redlegs Trophy - Steven Smith
Reserves
Best and Fairest - Ted Carroll
Second Best and Fairest - Robert Walters
Outstanding Service - Frank Giampaolo, Shane Grambeau, Chris Woodman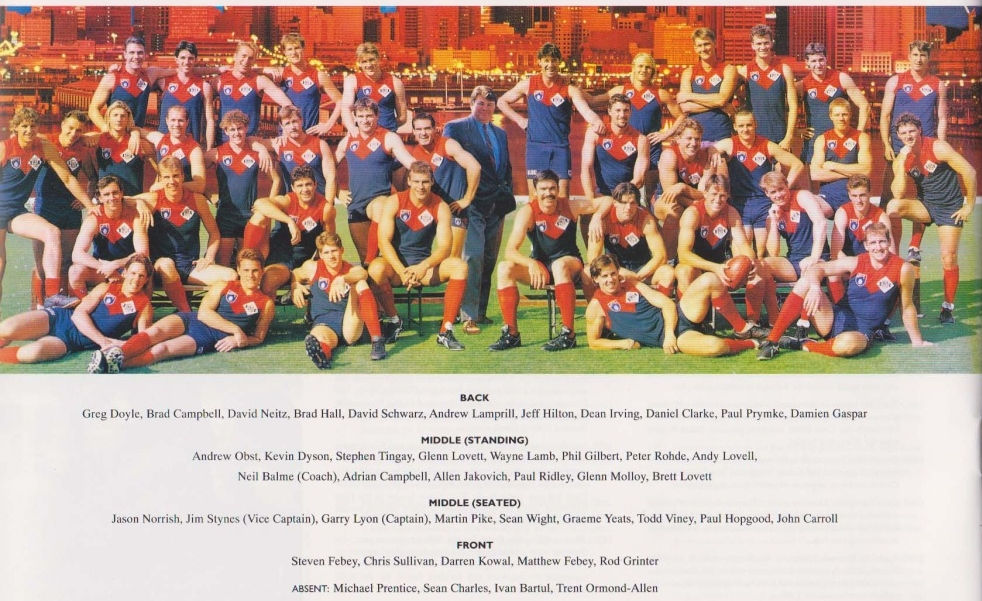 Under 19's
Best and Fairest - Peter Geddes
Second Best and Fairest - Robert Zubin
Outstanding Service - Mark Davidson, Michael Giulieri, Neil Fergus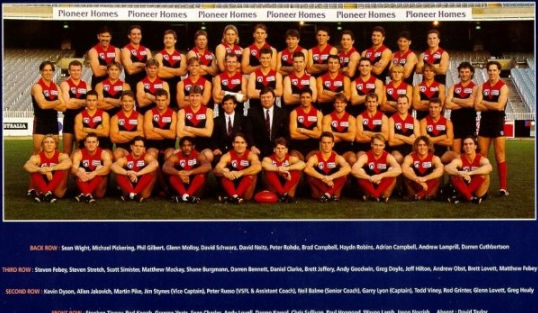 Under 17's
Best and Fairest - Kelvin Richards
Second Best and Fairest - John Ellingworth
Outstanding Service Awards - Jim Durnan, Clinton Love
Best Clubman - Tim Nolan

Media
"Past spirits emerging in Demons" - The Age 07/04/1976
"Stone end for Dogs rivals" - The Age 24/08/1976
"Hafey set for Demons" - The Age 22/09/1976
Links
Yearbook image courtesy of grandoldflag.net