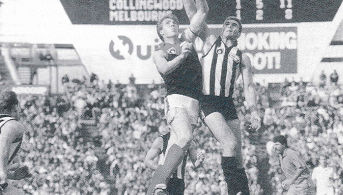 First VFA game - July 1881 match vs Carlton
First VFL game - Round 7, 1897 vs Essendon
Last game - Round 1, 1921 vs Essendon
East Melbourne Cricket Ground was initially home to Essendon, and later University. The ground hosted finals in the VFL's early years, including Melbourne's first Grand Final victory.
The ground was located at the intersection of Wellington Parade and Jolimont Parade, East Melbourne until it was demolished in 1921 to make way for housing and an extension of the Jolimont rail yards.
VFL
| | | | |
| --- | --- | --- | --- |
| Wins | Draws | Losses | % |
| 6 | 1 | 21 | 24.42 |
Records
Biggest Win
Highest Score
| | | | |
| --- | --- | --- | --- |
| | Score | Round | Opponent |
| 1 | 12.8.80 | Round 2, 1920 | Essendon |
| 2 | 12.6.78 | Round 1, 1921 | Essendon |
| 3 | 9.11.65 | Round 6, 1909 | University |
| 4 | 8.11.59 | Round 16, 1908 | Essendon |
| 5 | 8.8.56 | Round 16, 1902 | Essendon |
| 5 | 8.8.56 | Round 15, 1907 | Essendon |
| 5 | 7.14.56 | Round 17, 1915 | Essendon |
| 8 | 7.12.54 | Round 15, 1910 | Essendon |
| 9 | 7.8.50 | Round 16, 1912 | Essendon |
| 10 | 6.13.49 | Round 12, 1911 | Essendon |
Biggest Loss
| | | | |
| --- | --- | --- | --- |
| | Score | Round | Opponent |
| 1 | 69 | Round 9, 1919 | Essendon |
| 2 | 60 | Round 16, 1908 | Essendon |
| 2 | 60 | Round 6, 1908 | University |
| 4 | 58 | Round 14, 1914 | Essendon |
| 5 | 41 | Round 9, 1913 | Essendon |
| 6 | 36 | Round 7, 1897 | Essendon |
| 7 | 34 | Round 3, 1906 | Essendon |
| 8 | 26 | Round 5, 1901 | Essendon |
| 9 | 25 | Round 5, 1898 | Essendon |
| 10 | 24 | Round 10, 1905 | Essendon |
Lowest Score
| | | | |
| --- | --- | --- | --- |
| | Score | Round | Opponent |
| 1 | 1.10.16 | Round 6, 1899 | Essendon |
| 2 | 1.13.19 | Round 6, 1908 | University |
| 3 | 3.5.23 | Round 5, 1898 | Essendon |
| 4 | 3.6.24 | Round 5, 1901 | Essendon |
| 5 | 3.7.25 | Round 3, 1902 | Essendon |
| 6 | 3.9.27 | Round 7, 1897 | Essendon |
| 7 | 3.10.28 | Round 9, 1907 | Essendon |
| 8 | 4.5.29 | Round 11, 1903 | Essendon |
| 9 | 3.12.30 | Round 9, 1913 | Essendon |
| 10 | 3.12.30 | Round 11, 1909 | Essendon |
Most goals in a game
Photo courtesy of australianrulesfootball.com.au